Overview
Provide integrated online marketing automation solutions for your customers who sell through channels. Reduce price-based competition and increase the value you provide. Offering automated online solutions, will allow you to become an integral part of your clients' day-to-day business operations.
Contents: Setting the Stage | Deliver Automated Solutions | Benefits
Setting the Stage
The commercial printing industry is under pressure from many directions. Long vibrant segments such as check printing, pre-printed forms, and domestic consumer packaging are slowly fading – the first two victims of an increasingly digital world; the third a casualty of the migration of consumer product manufacturing to lower cost countries such as China. The growing popularity of electronic transactions on the part of consumers and businesses has chilling implications for invoice and statement printers. In addition, more products than ever before are ordered electronically and in many cases even delivered online (e.g. software, music, books, training).
Rest assured, the printing industry is not going the way of the covered wagon – the industry still has an essential role to play. However, the market forces outlined above are spurring a dramatic transformation across the entire industry. Consolidation abounds – the largest providers keep getting larger; driven primarily by the acquisition of smaller regional players. Of course, a smaller number of competitors, chasing a shrinking volume of deals, leads quite naturally to intense price competition – got to keep those presses spinning to cover the massive investment in plant, equipment, and people!
There is also a movement towards digital printing as a substitute for offset. The quality of digital printing keeps improving; and the cost of digital equipment continues to edge down lowering barriers to entry for new providers. Digital print offers the promise of low cost short runs, less wasted inventory, and one-to-one production. However, a lower barrier to entry also creates a new class of competitors and even more pressure on margins.
Finally, the Internet has emerged as a mainstream tool for print buyers. There once was a day when long-standing personal relationships formed the primary bond that led to sales. Now these same loyal clients can access the Internet, enter a phrase like "discount print" in their favorite search engine, and receive a list of literally hundreds of potential suppliers. Some of these providers will be local; others will be national; many offer benefits like online ordering, proofing, tracking, and even free shipping. Commercial printers have to work even harder for every deal!
It is clear that all printers, big and small, must re-invent themselves to remain vital in this changing environment. They must embrace the Internet, increase their visibility online, and offer new solutions that automate critical processes for customers.
But, starting down this path does require new skills and technology. How do you acquire these skills without bulking up on high-priced technical talent? If you choose to add new technical resources how do you evaluate their qualifications and performance? Further, how do you go about evaluating and selecting systems and software for these new solutions? Finally, how do you match the expense of systems, software, and people with the new revenues generated to avoid extensive up front investment and unnecessary risk?
Setting the Stage | Deliver Automated Solutions | Benefits
Deliver Automated Solutions
Introducing, the Channel Marketing Portal from Cendix – a tool designed specifically to allow commercial printers to provide integrated solutions for their customers. Using this offering you can reduce price-based competition and increase the value you provide to clients. In fact, by providing automated solutions you can become an integral part of your clients' operations.
Offering the Channel Marketing Portal to your clients allows you to avoid staffing up with expensive "techies"; there are no new systems to buy; and no expensive software packages to purchase, customize, and maintain. Cendix provides the experience and technology, removes the complexity, and handles all of the ongoing maintenance and enhancement – all at a price that makes sense!
The Channel Marketing Portal offers the ability to automate the ordering of direct mail, mailing lists, print products, or any other product you can imagine. Cendix works with you to customize each portal with the look, feel, and features required by your client. Once a portal is delivered, your customer, and their customers and partners, will be able to place orders online, approve previews, track the status of their orders, and re-order from their account history.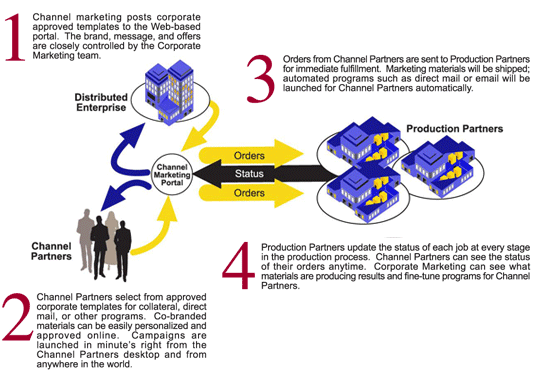 Cendix provides a production control panel where you can see new orders as they arrive and manage the fulfillment process. Cendix can also pass these new orders through to your existing production and fulfillment systems. The Channel Marketing Portal will track the progress of jobs as they are produced and make sure that customers have the latest status information on their orders. Cendix also provides a customer service control panel so that direct customer inquiries can be handled effortlessly.
Cendix automates the billing function so that clients can pay by credit card, purchase order, co-op funds, or use a commercial account. The Channel Marketing Portal also provides the ability to generate monthly billing statements, postage reports, and production details. Plus, Cendix provides powerful yet simple to use tools that allow you to choose the products offered, post content, manage pricing, or monitor the volume and composition of orders. You are the master of the solution that you offer – Cendix just takes care of the technology that enables it.
The Channel Marketing Portal can be delivered in many different configurations to meet an endless variety of client needs. Automated online electronic fulfillment, mixed media (email, Fax, & print), automated re-mailing to non-responders, one-to-one fulfillment? No problem. If you can imagine an automated solution we have the software and experience to deliver it for you.
Cendix has been creating award winning online applications for almost a decade. The Cendix team invented the concept of hybrid mail (digital to hard copy) – now widely regarded as the best way to launch direct mail campaigns. We can put our experience to work for you to offer winning automated solutions for your customers.
Setting the Stage | Deliver Automated Solutions | Benefits
Benefits
Add New Value
Stop trying to compete on price alone and use technology to offer significant new value for your customers. The Channel Marketing Portal automates the ordering of direct mail, mailing lists, print orders, and any other product that you can imagine. This solution will allow you to become an integral part of your customer's daily operations.
Keep It Simple
Internet applications can be complex – software development, customization, maintenance, and support can all create new challenges for your business. When you offer the Channel Marketing Portal from Cendix, Cendix becomes your development and online Operations team. We provide all the software, systems, and technical talent; create and customize applications; and manage operations and maintenance. This allows you to focus on what you do best – finding and closing new deals; and providing outstanding printing services for your customers.
Balance Your Investment
Creating an Internet application can cost tens of thousands of dollars and require endless hours of expensive technical talent – if you add packaged software the costs can easily double. But, that is not the whole story, your packaged application must still be customized and maintained adding even more expense – and you must make that substantial investment before you even have your first customer online!
Cendix has spent years creating the ultimate Internet application for commercial printers and their clients. We spread the cost across a larger base so that we can offer this solution at a fraction of what it would cost to build from scratch. We also offer the software on a subscription basis so that you can pay monthly for the portals that you have actually deployed. When you are getting paid – we both get paid – how is that for an even-handed pricing model?
Reduce Operating Expenses
The Channel Marketing Portal is delivered as a hosted service. No need to buy expensive software; allocate computer resources; or staff and train an Operations team. No need to do painful software upgrades either. Cendix provides the tools that you need to easily make changes on your own. That means there is also no need to call an expensive technical specialist to make updates to your portals. You are in the driver's seat – you control the supported templates, product categories, templates available, pricing and other critical attributes using the tools provided by Cendix. Of course, we are always here to help when you need us.
Access Funds Rapidly
Capture credit card payments online – the Channel Marketing Portal provides an electronic link directly to either Verisign or Authorize.net to process your payments. Funds from client purchases are transferred directly to your merchant account. The Channel Marketing Portal supports other popular transaction types as well: purchase orders, co-op funds, or commercial accounts. The Channel Marketing Portal can also generate monthly billing statements, postage details, and production reports. The bottom line is that the Channel Marketing Portal provides a complete and time-tested eCommerce solution.
Eliminate Production Errors
The eCommerce option provides visual cues for customers at every stage of the ordering process. Customers must approve a preview prior to placing an order. The actual preview may be printed on a local printer or emailed to others for prior approval. Uploaded documents are checked for size, image density, and embedded fonts. Assuring materials are submitted correctly avoids delays and costly rework.
Increase Online Opportunities
Cendix is not in the business of providing printing services – our job is providing technology and services to commercial printers. However, we do market online automation solutions non-stop – both online and offline. When we receive an inquiry directly from an enterprise customer who does not have an existing relationship with a production partner; we refer them directly to our network of production partners. Cendix is also aggressively adding production partners in areas other than print (e.g. email, logo items, seminars, Webinars, …) that may help you expand your product line further with minimal investment. Stay tuned as we work through the details of this exciting new program.
Automate Any Program
Cendix provides the Internet Presence Portal (digital storefront) and the Channel Marketing Portal (automated channel marketing solutions). Cendix also delivers custom solutions to meet unique customer needs: closed-loop direct mail, mixed media (email, Fax, & print), automated re-mailing to non-responders, electronic online fulfillment, or one-to-one marketing? No problem. Cendix also provides three separate application programming interfaces (API's) so that you can integrate with existing production systems, submit orders from any external application, and integrate cleanly with other online applications. If you can imagine an automated online solution then we have the software and experience available to deliver it for you and make it a winner.
Download Detailed Specifications
Cendix Products
Learn More